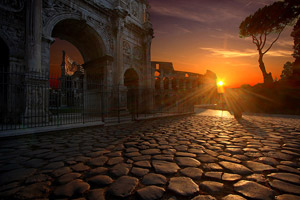 The Four Seasons is undoubtedly the high point of Italian Baroque. Antonio Vivaldi created an epoch-defining concert experience and invented a musical language that celebrates Nature. Through music, he tells about its many faces – the charming and pastoral, the stormy and unruly, the life-affirming and the all-destroying. Celebrate nature and the Baroque style with Vivaldi's inspiring, world-famous magnum opus!
A stay in the pastoral city of Mantua moved Vivaldi to immortalise nature's many beautiful sides in music. He composed The Four Seasons (or Le quattro stagioni in Italian) in the 1720s, and since then they have come to define both the musical era of Italian Baroque and the composer's own career. In capturing the perennial nature of seasons and their immutable cycle, Vivaldi achieved an evergreen quality that defines each of the four violin concertos and makes them an undying favourite across the globe.
At the time of their premiere, The Four Seasons caused a furore. Inspired by the landscapes, sights and sounds of the Italian countryside, Vivaldi found a way to orchestrate impending storms, murmuring creeks, barking sheepdogs, chirping birds, drunken autumn festival dancers, booming winter fireplaces and many other manifestations of nature and the times of the year. Throughout the cycle, the composer creates a sense of presence that leaves the listener in pure awe.
In the centre of Rome, you can enjoy the genius of Vivaldi's Four Seasons performed by an Opera e Lirica ensemble consisting of a string quintet and a harpsichord. The talented musicians present a stripped-down arrangement of the original full-orchestra score that lays bare the composer's creative genius and allows even the untrained ear to pick up on each theme and every musical invention. A timeless piece of music staged in a timeless venue – this concert is joy for all the senses!