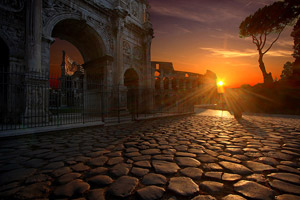 Staged at the St. Paul's Within the Walls Episcopal Church in Rome, Vivaldi meets Bach is a regular programme of baroque works by two of the finest composers the world has known. Located near to the Repubblica Metro station in the heart of the Eternal City, the church is well-known for its excellence of design as well as its elegant style. Indeed, the church's architecture makes it ideal for a performance of some of the best-known music of the early eighteenth century.
This unrivalled musical entertainment includes a rendition of Antonio Vivaldi's famous interpretation of the passing year, "The Four Seasons", as well as Johann Sebastian Bach's Cantata, "Jauchzet Gott in allen Landen", written for a solo voice, often considered to be a baroque masterpiece. As well as a top-notch solo soprano taking up the vocal of Bach's work there are the sounds of trumpet and strings to enjoy. The entire ensemble includes violins, a violoncello, a viola, a trumpet and that most distinctive of baroque keyboard instruments, the harpsichord, as well.
Vivaldi meets Bach is an ideal way to get to know the musical mastery of both composers. Known for his musical innovation and for his extremely memorable melodies, Vivaldi was a big influence on Bach who admired his concertos and arias greatly. Indeed, Bach can be considered something of a fan of Vivaldi himself, having transcribed no less than six of the Italian's concerti for organists. Thanks to the thoughtfully put together programme and the elegance of the church setting, Vivaldi meets Bach is the perfect way to enjoy an evening of music in Rome.