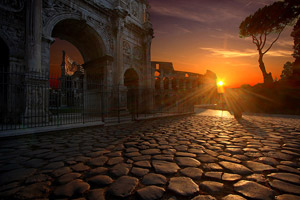 Piotr Ilyich Tchaikovsky composed three ballets altogether, and The Nutcracker was his final effort in the genre. Over a century after the piece's birth, it has become a staple of the Christmas season's musical festivities. This year, St Paul's Within the Walls Church in Rome becomes the stage where the fantastical tale will unfold thanks to the talents of Orchestra Sinfonica Città di Roma. To make the concert performance of The Nutcracker even more special, some of the numbers feature dancers who present an original choreography by Minea De Mattia. A Christmas classic that seamlessly marries tradition and invention, The Nutcracker at St Paul's Within the Walls Church promises to put you in the best of moods for the festive season.
Tchaikovsky composed The Nutcracker at the commission of ballet master Marius Petipa. The libretto was based on E. T. A. Hoffmann's fantasy story The Nutcracker and the Mouse King, which inspired the Russian Romantic composer to craft some of his most memorable and innovative melodies. The ballet's premiere took the form of a Tchaikovsky double bill, also featuring his opera Iolanta, on 18 December 1892 at the famous Mariinsky Theatre in St Petersburg. Even though the performance was not an immediate success, the music connected with audience immediately. A 20-minute concert suite based on the original score quickly entered the orchestral repertoire, and a few successful revivals from the 1960s elevated The Nutcracker to the ballet classic we know and love today.
St Paul's Within the Walls Church in Rome is a favourite venue for concert performances thanks to its special acoustics and unique interior. The impressive mosaics that depict biblical scenes in colourful fashion match The Nutcracker's outlandish and special melody lines perfectly, and the modern choreography by De Mattia that accompanies some of the numbers seamlessly blends into this beautiful symphony for all the senses. On the verge of Christmas eve, this is an outstanding holiday experience.