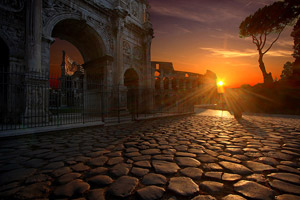 The talented musicians from the ensemble I Solisti dell'Opera Lirica di Roma celebrate leading Italian composers with the special concert The Great Opera Arias. At the theatre of the historic Palazzo Santa Chiara in the heart of Rome, a string quartet, a tenor, and a soprano interpret standout melodies from many different time periods. Even though the focus is clearly on the opera arias of maestros such as Giacomo Puccini and Giuseppe Verdi, the programme also features instrumental performances that let the string quartet's talents shine as well as a Neapolitan song that adds a different colour to the evening. To make the experience even fuller, before the concert begins, you can also marvel at the palace chapel's impressive 17th-century architecture, marble statues, and paintings. You can do so in style by buying a drink at the well-stocked cocktail bar.
The programme begins with two instrumental pieces: 'Adagio' from the Concerto for Oboe and Strings in C-Minor by Benedetto Marcello and the uplifting 'Spring' from the celebrated Four Seasons by Antonio Vivaldi. The Neapolitan song 'Torna a Surriento' by Ernesto De Curtis opens up the vocal portion of the evening with its inimitable melody. Luigi Boccherini's 'Minuetto' for string quartet is next, bringing us back into the Baroque period. Giacomo Puccini then makes his first of several appearances, this time with 'Quando m'en vo' from his classic tragedy La Bohème. After the intermezzo from Pietro Mascagni's Cavalleria rusticana, Puccini's classic tenor aria 'E lucevan le stelle' from Tosca and Giuseppe Verdi's quartet 'Bella figlia dell'Amore' from the stunning Rigoletto sound even more powerful.
More instrumental magic happens with 'Musica proibita', an Italian romance by Stanislao Gastaldon and 'Galop' from Wilhelm Tell by Gioachino Rossini. The programme comes to an end with two Puccini and two Vivaldi Four-Seasons masterpieces that follow each other in quick succession: 'O mio babbino caro' from Gianni Schicchi, 'Winter', 'Nessun dorma' from Turandot, and finally 'Summer'. The talented musicians of Opera Lirica di Roma and the classy atmosphere of Palazzo Santa Chiara makes The Great Opera Arias concert a versatile and memorable experience.