Requiem in d minor, W. A. Mozart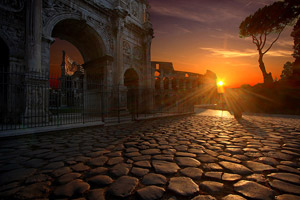 Wolfgang Amadeus Mozart, the boy genius, passed away before finishing his monumental Requiem in d minor. Still, what he managed to commit to paper was more than enough to make the work a career-defining moment and an apt farewell for the musical genius cut down in his prime. After Mozart's death on 5 December 1791, his pupil Franz Xaver Süssmayr took the difficult task of completing the work and ensuring it would be performed, for his teacher's sake and to provide financial assistance to the composer's widow Constanze. For her part, she made sure to spread a number of rumours and intriguing stories around the composition to tickle the public's interest. Süssmayr's completion was first performed on 14 February 1792 to commemorate one year since the passing of Count Franz von Walsegg's wife. Since then, Mozart's Requiem has become a standard for the genre and a staple of sacred music, as audiences at St Paul's Within the Walls Church in Rome will be able to attest.
At the time of his passing, Mozart had completed a clean draft of the Requiem's introit and sketched the Kyrie in great detail. The remainder of the work was scattered across numerous scraps of paper, which Süssmayr had to decode and arrange correctly. While we will never know how much of the final Requiem was Mozart's unadulterated work, one thing is clear: the grand composition bears the expressive touch and powerful orchestration. The intensely poignant crescendo of the introduction, which builds up ever so slowly until the chorus blasts in, is instantly recognisable. The harmonic structure is also classic Mozart, inventive and agile, rising and falling as if trying to touch divinity and barely missing it by a fingertip.
Mozart's Requiem feels right at home at St Paul's Within the Walls Church, where the Roman atmosphere synchronises with the composition's epic nature. The soloists, choir, and musicians of Orchestra Sinfonica Città di Roma do the Austrian composer's final masterpiece immense justice.