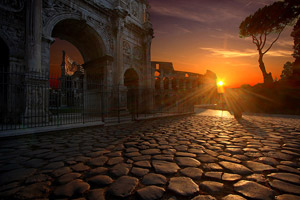 Opera e Lirica celebrates some of the greatest Romantic composers with an intimate performance of their best-known arias and duets. The "Concerto d'Opera" at the Oratorio del Caravita in the heart of Rome features a tenor and a soprano accompanied by a string quartet and a grand piano. In this stripped-down setting, the timeless melodies of Giuseppe Verdi, Giacomo Puccini, Gioachino Rossini, Gaetano Donizetti, and Piotr Ilych Tchaikovsky acquire a different quality. This makes the performance all the more memorable and exciting for connoisseurs and novices alike.
The programme begins with Pietro Mascagni's 'Interlude' from his classic verismo opera Cavalleria rusticana. Verdi's La Traviata lets the singers shine on 'Sempre libera' and 'De' miei bollenti spiriti'. The orchestra takes centre stage again with 'La danza delle ore' by Amilcare Ponchielli. Puccini makes his first appearance on the programme with two arias and a duet from La Bohème, which let the singers shine individually and together, too. 'Preludio' and 'Parigi o cara' from Verdi's La Traviata round off part one.
Part two stays true to form with an instrumental opener – 'Meditation' from Thais by Jules Massenet. Then come two excerpts from Tosca, the verismo masterpiece by Giacomo Puccini. 'The Waltz of the Flowers' by Tchaikovsky lets the singers take a breather and puts the instrumentalists into the spotlight once more before the soprano returns for 'Un bel di, vedremo', the wistful aria of Cio Cio San from Madama Butterfly, another Puccini highlight. 'La donna è mobile' from Verdi's Rigoletto raises the spirits, the Neapolitan tarantella 'La Danza', Gioachino Rossini's danceable musical soirée, keeps the tension high until the show-stopper 'Libiamo ne' lieti calici', the famous toast from the opening of La Traviata, popularly known as 'Brindisi', brings the evening to a close.
"Concerto d'Opera" at Oratorio del Caravita in Rome is a performance in the best traditions of Opera e Lirica that rounds up great Romantic tunes and presents them in an exciting yet intimate setting.