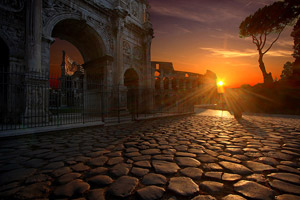 Movies in Concert celebrates the greatest movie soundtracks of all time in a quintessentially Italian fashion: a live performance in an ornate historical venue that brings together the classic and the modern. At the Waldensian Auditorium, just a stone's throw away from Piazza Venezia, you can tickle your taste buds with a delicious pasta tasting followed by a concert full of timeless movie melodies in an intriguing minimalist arrangement. A Roman holiday to die for!
Movies in Concert kicks off at 7:30 pm with a small tasting of delectable pasta varieties that best represent the Roman palate. Once you have satisfied your culinary curiosity for authentic Italian flavours, the musical part of the evening commences at 8:30 pm and takes you on a wonderful ride through cinematic soundscapes. The concert goes on for about 90 minutes, including a short break.
Even though Rome's tasty temptations certainly contribute to the enjoyment, Movies in Concert's main appeal is the timeless music it presents live on stage. An ensemble of piano, double bass and violin accompany a talented soprano in a string of greatest hits from motion pictures that have delighted generations of movie-goers. Ever-lasting melodies such as 'The Mission', 'Dr Zhivago', 'Love Story' and 'Nuovo Cinema Paradiso' find new life in a minimalist arrangement exquisitely for your listening pleasure. A duo of dancers reinforces the evening's magic with an inspired choreography that gels together with the music and creates one complete live performance that taps into your imagination.
All the elements of the spectacle Movies in Concert come together to invoke the magic of cinema for your listening and viewing pleasure. By catering to all your senses, this special concert transports you to the fantastical settings of its musical programme effortlessly and convincingly. Inspired by your taste of Italy's fabulous food, its evocative performance culture and the grandeur of the Waldensian Auditorium, you will fly on the wings of music to distant lands and across the centuries. A rich and memorable evening awaits you!