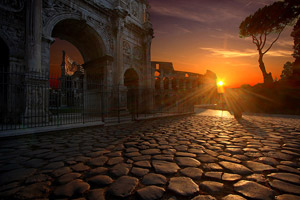 The genius of Leonardo Da Vinci continues to strike awe and admiration in the hearts of all who experience it first-hand. The exclusive event Leonardo in Rome offers you precisely such an opportunity. It includes an English guided tour through the museum in the Eternal City dedicated to the celebrated artist and inventor. The tour features musical pieces played on the lute and the four-string guitar that enhance the authenticity of the experience. The event wraps with a solo musical performance of several pieces from Leonardo's time, to solidify your marvellous impression of your encounter with a true genius.
There is no better place to gain an intimate knowledge of the scientific and cultural impact of Leonardo Da Vinci than in the institution especially dedicated to his rich legacy. Located in the heart of Rome, between St Peter's Basilica and Castel Sant'Angelo, the Leonardo Da Vinci Museum features fifty of the genius' inventions, faithfully constructed according to his original handwritten plans. You can see the precursors to many modern machines as well as unique examples of Leonardo's unparalleled visions that have yet to come into modern use.
Aside from his technological prowess, Da Vinci left an equally indelible mark on Renaissance art. On your guided tour, you will see a range of carefully curated reproductions of the master's most famous paintings. As you look at veritable renditions of the Mona Lisa and The Last Supper, you are sure to find yourself sliding into these classic works' inimitable atmosphere and depth.
Accompanying you on your tour through Leonardo Da Vinci's creative world is music from his time played on original ancient instruments. As you move from hall to hall, a talented lute and four-string guitar player performs period pieces for your further enjoyment. When you complete your Leonardo Da Vinci Experience round, a final Renaissance concert of solo numbers delights and transports you into the exciting times of unbridled imagination and far-reaching inventive vision.
Leonardo in Rome, at the museum especially dedicated to the Renaissance master on Via della Conciliazione, combines the limitless genius of one of the greatest humans who ever lived with music and speech into a multisensorial event that does justice to his larger-than-life legacy.