La Grande Opera e Balletto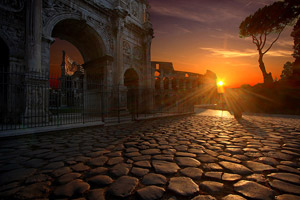 The Oratory of San Francesco Saverio del Caravita, or Caravita Church, in Rome is a favourite venue for memorable classical performances, and La Grande Opera e Balletto (The Great Opera and Ballet) is no exception to that rule. Within a time span of an hour and a half, Opera e Lirica's talented ensemble of singers, musicians and dancers take you on a tour through Romanticism's most outstanding stage works. To say that the programme is impressive is an understatement.
Italian maestros make several appearances throughout the evening. Giacomo Puccini's 'Vissi d'arte' and 'Recondita Armonia' from his beloved Tosca, Giuseppe Verdi's 'Preludio' and 'Parigi o cara' from the heart-wrenching La Traviata, Gioachino Rossini's signature 'La Danza', and Amilcare Ponchielli's 'La danza delle ore' from his beautiful and tragic La Gioconda are just a few of the great examples of Italian Romanticism the event has in store. Add to them Pyotr Ilyich Tchaikovsky's world-famous 'Waltz of the Flowers' from The Nutcracker and Jules Massenet's 'Méditation' from Thais and you have a world-class experience!
La Grande Opera e Balletto relies on a group of outstanding performers from the Opera e Lirica ensemble. A string quartet and a grand piano provide the musical accompaniment as a tenor and a soprano bring the classic Romantic melodies to life on the stage of the breath-taking Baroque church. A duo of graceful dancers channels the period's intense emotion and sensitivity with every expressive movement they make.
With a programme so rich in Romantic genius, La Grande Opera e Balletto is an opportunity that can hardly be resisted. For lovers of authentic human emotion put into music and dance, there is no better way to spend an evening in Rome than to head to the Caravita Church and let the magic unfold.