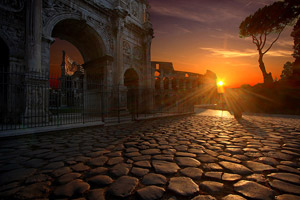 In the heart of Rome, under the famous Piazza Navona, nearly 5 metres below street level lies Stadio di Domiziano. The Stadium of Domitian, the last Roman emperor of the Flavian lineage, is a unique and impressive sight that automatically transports you to the times of ancient glory and grandeur. It is the perfect venue for the event History of Rome that celebrates the Eternal City with a detailed English-language audio-guided tour of the archaeological site and then with some of the finest melodies of Italian opera masters. It is a love letter to Rome and you should sign it with your attendance!
The evening begins at 7:30 pm with a thorough tour of Stadio di Domiziano, so that you can perceive it in its full glory. At 8:30 pm, the musical and ballet programme commences and lasts about 60 minutes. During this time, a selection of beloved classics from famous Italian operas form a story about the Italian capital's origins and development. Cleopatra (soprano), Marc Anthony (tenor), and Emperor Augustus (baritone) sing arias and ensemble pieces like 'Questa o quella' (Giuseppe Verdi, Rigoletto), 'Casta diva' (Vincenzo Bellini, Norma), 'Tace la notte' (Giuseppe Verdi, Il Trovatore), or 'Se la giurata fede' (Giacomo Puccini, Tosca). Between the musical numbers, talented dancers take the stage and present ballet etudes set to original music by M. B. Panitti.
As music and dance interchange upon the impressive historical stage of Stadio di Domiziano, you are sure to find yourself drifting into the timelessness of Rome. The melodies of undoubted masters of Italian opera find new meaning and new depth thanks to the legendary ancient rulers' characters who come even more alive in the beautiful, antique venue. History of Rome attracts you with a winning combination of fact and fiction, antique reality and artistic imagination. Be sure to answer the call!