Opera Concerto - Enchanting Opera Arias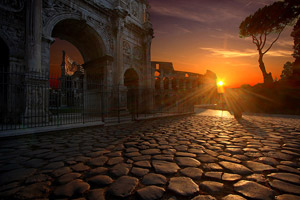 The performance Enchanting Opera Arias at St Paul's Within the Walls Church in Rome takes you on a journey through the best examples of lyrical opera across the centuries. Let the talent and imagination of famous composers such as Giacomo Puccini, Giuseppe Verdi, Gioachino Rossini, Wolfgang Amadeus Mozart or Georges Bizet engulf you with the most beloved operatic solo numbers and duets. Your musical hosts will be the Orchestra I Virtuosi dell'opera di Roma. Together with a cast of talented singers, they will make your trip down opera's memory lane unforgettable.
The programme of Enchanting Opera Arias truly delivers on the event's title. Throughout the evening, you can expect to hear Verdi's all-time favourites such as 'Va' pensiero' from Nabucco, 'Libiamo ne' lieti calici' from La Traviata, and 'La donna è mobile' from Rigoletto. Puccini tugs at your heart's strings with the stirring 'Nessun dorma' from Turandot, 'E lucevan le stelle' from Tosca, and 'Quando m'en vo' from La Bohème. He also shows his knack for comedy with 'O mio babbino caro' from Gianni Schicchi. Mozart's 'Là ci darem la mano' from Don Giovanni and Rossini's 'Largo al factotum della città' from The Barber of Seville keep the spirits high. These and other arias, duets and ensembles promise a varied and enjoyable journey through the opera catalogue.
Mixed into the rich programme are also a few moments for the orchestra to shine. I Virtuosi dell'opera di Roma will take you through 'Preludio' from Verdi's La Traviata, 'Entr'acte III' from Bizet's Carmen, and 'Barcarola' from Offenbach's The Tales of Hoffmann. These small instrumental breathers punctuate the artistic plan nicely and add flair and character to the overall performance. Enchanting Opera Arias at St Paul's Within the Walls Church in Rome is a venerable who's who of classic opera melodies presented by talented musicians in a majestic, memorable setting.