Christmas Oratorio, J. S. Bach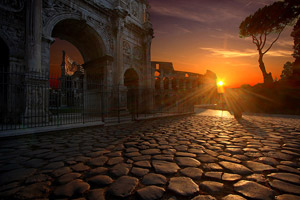 With lots of heart and inimitable devotion, Johann Sebastian Bach assembled his famous Christmas Oratorio for the festive season of 1734. Close to three centuries later, it is still a paragon of sacred music and a beloved element of sacred celebrations around the globe. Visitors of Rome this Christmas time have the great opportunity to hear the first three parts of Bach's Christmas Oratorio performed at the very special St Paul's Within the Walls Church on Via Nazionale. Starting at 6:30 pm on the year's last Sunday, this is a performance that truly captures the spirit of Christmas. It will surely make an unforgettable experience for listeners of all ages.
One of the defining features of Bach's Christmas Oratorio is the fact it was not composed with sacred use in mind. In fact, the prolific composer repurposed a number of arias and choruses from older works of his, some of which were secular celebratory compositions in honour of kings and other aristocracy. Perhaps this element of musical parody and self-citation is what lends the oratorio its special quality and staying power? Ever since its debut during the Christmas season at the St Thomas and St Nicholas churches in Leipzig, where the different parts that make up the 'Weihnachtsoratorium' were performed throughout different days, the Christmas Oratorio has become a central element of the season's celebration.
The cycle of six parts goes through Bach's favourite major key of D, making intermediate stops in F, G and A. While the textual narration takes some liberties with the sequence established by the gospels, the musical progression from part to part presents a truly humbling and elevating journey, as if blessed with a divine touch. Award-winning choral conductor Tom Hammond-Davies and the chamber orchestra St. Paul's Camerata back the ResAltera Vocal Ensemble and soloists to revive parts I, II and III of this gem and to provide a beautiful coda to the Christmas season. As sacred music goes, Bach's Christmas Oratorio at St Paul's is bound to leave you breathless.