Arie d'Opera e Canzoni Napoletane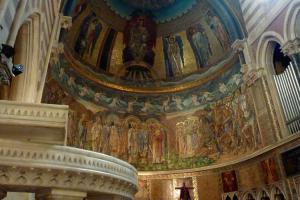 An unforgettable concert and a wonderful memory of Italy await you with this magnificent performance of opera arias and Neapolitan songs.
This meeting of different musical forms takes place in the centre of Rome, on Fridays at the church of St Paul's Within the Walls, and on Saturdays at the Oratorio of San Francesco Saverio "del Caravita". The first one, built in the neo-Romanesque and neo-Gothic styles and with breath-taking mosaics, was the first non-Catholic church to be built in Rome after Italian unification in 1861. The Oratorio del Caravita, situated close to the via del Corso and the Pantheon, dates back to the sixteen hundreds. Both venues offer excellent acoustics for hosting performances such as this.
Inspired by the world-renowned 'Three Tenors' Luciano Pavarotti, Plácido Domingo and José Carreras, the first part of this concert features the three tenors of Opera e Lirica, performing some of the most famous arias in Italian opera. Accompanied by a chamber ensemble of string quartet and piano, they will delight you with arias from La Traviata, The Elixir of Love, Rigoletto and Tosca, among others.
In the second part of the concert you will be thrilled by the joy of Naples, which infuses some of the most well-known Neapolitan songs and which the illustrious singers and musicians will perform for you here. Favourites such as O sole mio, Nel blu dipinto di blu and Torna a Surriento could hardly be missing at a musical celebration such as this.
Whether this event appeals to you most of all for its opera arias or its Neapolitan songs, the performance by the three tenors and the superb musicians will not disappoint you.
Programme:
Pietro Mascagni, from the opera Cavalleria Rusticana:

Intermezzo - Instrumental

Gaetano Donizetti, from the opera L'elisir d'amore:
Giacomo Puccini, from the opera Tosca:
Giuseppe Verdi, from the opera La Traviata:

De' miei bollenti spiriti

Jules Massenet, from the opera Thaïs:

Intermezzo - Instrumental

Giuseppe Verdi, from the opera Rigoletto:
Ruggero Leoncavallo, from the opera Pagliacci:
Giacomo Puccini, from the opera Turandot:
Medley of Neapolitan songs – Instrumental
Salvatore Cardillo:
Eduardo di Capua:
Rodolfo Falvo
Ernesto De Curtis
Domenico Modugno
Andrea Bocelli
Eduardo di Capua