New Year's Baroque Concert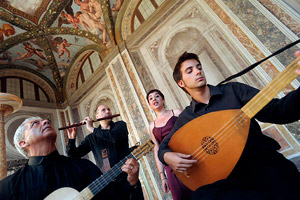 This New Year's Eve, the Eternal City affords you the unique opportunity to greet January 1 by going several centuries back in time. At the luxurious historic Doria Pamphilj Palace, the New Year's Baroque Concert includes an exclusive private tour of the aristocratic abode and an inimitable musical performance, courtesy of the Schola Romana Ensemble with their authentic instruments and unique experience and training in the music of the period. Hear the special sounds of the theorbo, the Baroque guitar, the lute and the dulciana, among other period instruments, in the skilled hands of the professional musicians and see how wonderfully they harmonise with the angelic soprano melodies of Renaissance and Baroque composers. If there is a classier and more exciting way to step into the new year, we surely do not know it!
The regal atmosphere of the Doria Pamphilj Palace reinforces the feeling of authenticity and exclusivity that the concert conveys. Apart from the opulent Throne Hall where the performance takes place, you will enjoy a private tour with an English-speaking art historian who will help you get even deeper into the Baroque epoch. The palace is home to one of the richest art collections in Italy, featuring a number of highly regarded pieces by Raphael, Velázquez, Tiziano, Caravaggio and others. A tour of the private apartments of Princess Doria Pamphilj will afford you a special look behind the curtains of Roman nobility.
In the programme of the New Year's Baroque Concert you will find some of the most formative composers of the late Renaissance and early Baroque period in Italy. Girolamo Frescobaldi, Fabritio Caroso, Andrea Falconieri, Gaspar Sanz, Giulio Romolo Caccini and Giovanni Giacomo Gastoldi each left a bright trail in early classical music with their compositional prowess as well as their instrumental proficiency. The Schola Romana Ensemble have long specialised in the performance of such early works, and their concerts are as close as you can get to travelling back in time to hear those compositions at the time they were being performed originally. Thus, the New Year's Baroque Concert promises a rich variety of wonderful impressions with the music, art and architecture of this very special historical period. A great way to start into the new year!