New Year's Baroque Concert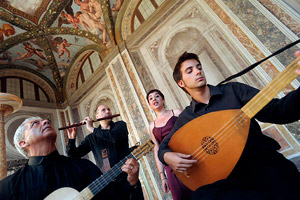 Experience a fantastic way to round off the year in one of Rome's most famous 17th century palaces, the Palazzo Doria Pamphilj, where the wonders of Baroque art (painting, sculpture, architecture and music) are combined in a unique way.

This event includes a guided tour in English of the gallery, which contains more than 400 pictorial artworks. Among those that stand out are some masterpieces by Caravaggio, Rafael, Tiziano, Bernini and Velázquez, among others. During your visit, the sounds of Baroque music – performed on authentic Baroque instruments – will accompany you as you move through the different halls.

This wonderful feast for the senses will culminate with a fabulous concert, also played on original Baroque instruments, in the beautiful Throne Room of the Palazzo Doria Pamphilj.
Programme:
Andrea Falconieri: Aure vaghe
Cesare Negri: Spagnoletta
John Dowland: Come again
Gaspar Sanz: Chapricho Arpeado
Giulio Caccini: Amor ch'attendi
François Le Cocq: Chaconne
Girolamo Frescobaldi: Così mi disprezzate
Claudio Monteverdi: Si dolce è il tormento
Giovanni Gastoldi: A lieta vita