I Tre Tenori, New Year's Concert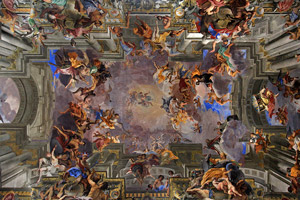 On 31 December and 1 January, a special event awaits you in the heart of Rome. I Tre Tenori will recreate the magic of Pavarotti, Carreras and Domingo at the Oratorio of San Francesco Saverio "del Caravita", a church close to the via del Corso and the Pantheon dating back to the sixteen hundreds. It is a tribute that captures perfectly the phenomenon that swept the world a quarter of a century ago when these three great singers joined forces to sing to audiences from the same stage.
Accompanied by string quartet and piano, Opera e Lirica's very own trio of tenors will sing the music of Puccini, Verdi, Leoncavallo, Massenet and Mascagni before moving on to Christmas carols and other seasonal melodies. "Adeste fideles" ("O Come, All Ye Faithful" sung in Latin) and the pastorale, "Tu scendi dalle stelle", are followed by some of the most popular Christmas songs of all time, including James Lord Pierpont's "Jingle Bells" and Sammy Cahn and Jule Styne's "Let it snow".
The festive selection in the second half of the concert opens with "The Blue Danube" by Johann Strauss the Younger and finishes in stirring fashion with a rendition of Johann Strauss the Elder's "Radetzky March". Close your eyes at these points in the performance and you will feel as if you have been whisked off to the elegance of the Viennese ballroom.
Each evening ends in grand style. You will be invited to raise a glass of Italian sparkling wine to toast the New Year in the company of I Tre Tenori. You will also have the opportunity to sample classic Italian cakes like pandoro and panettone or enjoy a baba or a sfogliatella, both of which are Neapolitan specialities. Whatever your choice, it's a delicious way to round off the night.
Wonderful entertainment with traditional refreshment in a glorious setting. What better way can there be to say goodbye to one year and welcome in the new?
Programme

Act I:
From Cavalleria Rusticana, by Pietro Mascagni
From Tosca, by Puccini
From La Traviata, by Giuseppe Verdi

Dei miei bollenti spiriti

From Thais, by Jules Massenet
From Rigoletto, by Giuseppe Verdi
From Pagliacci, by Leoncavallo
From Turandot, by Giacomo Puccini:
Act II:
Johann Strauss the Younger
Christmas Songs

Adeste Fideles
Tu scendi dalle stelle
White Christmas
Let It Snow
Jingle Bells
War is over

Johann Strauss, the Elder