Concerto per il Nuovo Anno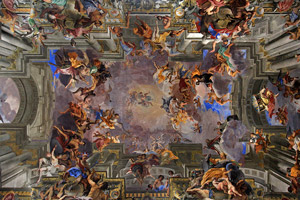 For music lovers, there can be few better ways to see in the New Year than in the heart of Rome, the Eternal City. On 31 December and 1 January, you can enjoy the musicians and singers (soprano, tenor and baritone) of I Virtuosi dell'opera di Roma performing a special programme of music that not only showcases arias, duets and instrumental extracts drawn from some of the world's greatest operas but still finds room for the joyous waltzes of the Viennese ballroom.
Since their founding in 1998, I Virtuosi dell'opera di Roma have dedicated themselves to the performance of lyrical opera to become a world-class ensemble that unashamedly celebrates bel canto in all its forms. Their New Year's Concert, divided into three acts, cleverly mimics the structure of a single opera but spans more than one hundred years of music.
Beginning with Georges Bizet's enchanting "Entr'acte" with which the composer introduces the third act of Carmen, the concert is a fascinating tour of some of the greatest works to grace the musical stage; from "Deh, vieni alla finestra" from Wolfgang Amadeus Mozart's Don Giovanni, first performed in 1787, to Giacomo Puccini's "E lucevan le stelle" from the composer's work of 1900, Tosca.
Each part of the concert is rounded off in stunning fashion: Act 1 with Jacques Offenbach's delightful barcarolle, "Belle nuit, ô nuit d'amour" from The Tales of Hoffmann; while in Acts 2 and 3, I Virtuosi dell'opera di Roma take a break from opera to turn to Johann Strauss the Younger's "Pizzicato Polka" and "Wine, Women and Song", a waltz whose name seems to sum up end-of-year party-going to perfection.
The venue for this marvellous concert is St. Paul's Within the Walls, an Episcopal Church designed by George Edmund Street and the first non-Catholic church to be built in Rome. Built in the Neo-Gothic style, its distinctive exterior alternates red brick with white travertine. Its interior not only boasts beautifully crafted stained windows and mosaics, but is blessed with an exceptional acoustic that makes it an ideal venue for musical events.
Wonderful music interpreted in a fantastic setting. This New Year promises to be one to remember.