La Traviata, Opera e Lirica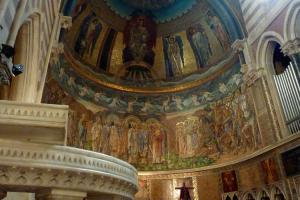 Giuseppe Verdi's La Traviata is the story of an ill-fated love affair between Alfredo Germont and the Parisian courtesan, Violetta Valéry, who is suffering from the scourge of 19th century Europe, consumption. Fearing for the reputation of his family, Alfredo's father, Giorgio, compels Violetta to break off the relationship.
Unaware of his father's role, a distraught Alfredo angrily confronts Violetta and his father, now guilt-ridden, reveals his deception. Alfredo and Violetta are reunited for one last brief moment of happiness before she dies.
Premiered at the Gran Teatro La Fenice in Venice in 1853, La Traviata is a pivotal work in the repertoire, marking the transition from the rigorous conventions of form in opera, established by composers such as Rossini and Donizetti, to a more fluid approach where music and story are interwoven into a dramatic whole. La Traviata, a tour de force of the Romantic era, epitomises Verdi's love of, and skill for, writing beautiful melodies, typified by the much-loved aria, Sempre libera, and the duet, Libiamo ne' lieti calici, popularly known in English as the "Drinking Song". The enduring appeal of Verdi is such that, more than a century after his death, his operas continue to be performed more often than those written by any other composer.
St Paul's Within the Walls Church in Rome provides the venue for this production of Verdi's work. St Paul's, famous for hosting high quality classical events, and boasting one of the finest acoustics in the city, is one of Italy's most intimate spaces for experiencing the delights of opera.