Carmen, Baths of Caracalla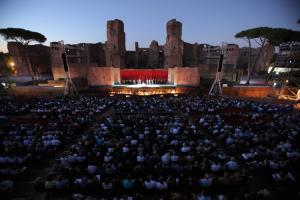 The most enduring operas are often those that have a rough time of it when they first appear. That could not be more true than what happened to Georges Bizet's Carmen. Audiences simply could not stomach its convincing depiction of the underbelly of Spanish society and its premiere at the Opéra Comique in Paris on 3 March 1875 was a commercial and critical failure. Bizet passed away exactly three months later, convinced the work was a disaster. He was just thirty-six years old.
Nowadays we have a very different opinion of those who live on the margins of society taking centre stage in the arts. Carmen continues to excite audiences today, not simply because of its wonderful music, but due to the way its characters reveal what it means to be human.
We can never be sure whether Carmen, the seemingly dispassionate seductress of the title, really loves anyone. She seems to play with men's feelings, drawing them in and then, perhaps as a means of self-defence, brushing them away as things begin to get serious.
Don José, a lowly soldier, cannot resist her. He abandons his girlfriend, suffers imprisonment and deserts his regiment, becoming an outlaw in the process, all to be by Carmen's side. Enter the toreador, Escamillo, Don José's rival for Carmen's affections. Carmen chooses Escamillo and sets in train the events that will lead to the opera's tragic denouement.
The correct title of Carmen's famous aria, La Habanera, is "Love is a rebellious bird". Does she sing her words to spite Don José or to protect him from her? Much depends on both our view of Carmen and how she is portrayed. It is this quality that makes Bizet's final opera as involving for the singers and actors who perform it as it is for everyone who sees it.
A lesson in the dangers of jealousy, Carmen is a work as sensuous as its gypsy protagonist. The south of Spain, and more specifically Seville, has never seemed as sultry as in Bizet's masterpiece. The stunning arena of the Baths of Caracalla, on a warm Rome evening, is the perfect space in which to enjoy the Teatro dell'Opera di Roma's presentation of this seminal and genuinely revolutionary piece of musical theatre.