The hidden Letter of Lucrezia Borgia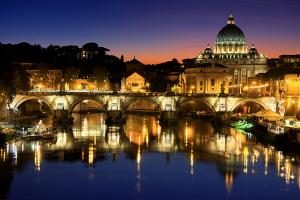 In the impressive ambiance of Cappella Orsini in Rome, The Hidden Letter of Lucrezia Borgia brings together the best of Italian cuisine with the intriguing story of a Renaissance woman who had it all, told through the music of Italian masters such as Gaetano Donizetti, Giuseppe Verdi and Francesco Paolo Tosti. Immerse yourselves in the mystery, luxury and pleasures of a true Italian legend!
Lucrezia Borgia was the quintessential femme fatale. She was highly educated, supremely intelligent, dashingly beautiful and – rumour has it – ambitious and ruthless to the bone. Half-whispered stories of her lavish parties, political machinations and sexual exploits circulated around Rome. In the performance, one of Lucrezia's descendants chances upon a previously unknown letter of hers that triggers a series of exciting, riveting discoveries.
The Hidden Letter of Lucrezia Borgia captures the mystique of this impressive Renaissance woman and brings it to the operatic stage. The concert borrows heavily from the opera Lucrezia Borgia by Gaetano Donizetti and also includes popular arias from Giuseppe Verdi's Un ballo in Maschera and La Traviata. Songs by the master of Italian melody Francesco Paolo Tosti round off the musical programme. A tasteful piano arrangement will accompany a soprano and a tenor as they revive these classic numbers on the stage of Cappella Orsini in the heart of Rome.
The event also features a fantastic dinner menu, full of beloved Italian flavours and inventive culinary combinations. The evening will begin with a welcome drink on the ground floor of Cappella Orsini at 7:00 p.m. After you get to know this beautiful venue, a former Catholic church that has become an attractive art gallery and a performance spot, you will head upstairs for the first part of the concert programme. The dinner will then commence, followed by the second part of the concert and dessert.
The Hidden Letter of Lucrezia Borgia will wrap at around 11:00 p.m. and provide vivid memories of Italian cuisine, history and music that you will cherish for a long time!
Extract of the programme:

Let it be soon by Francesco Paolo Tosti
From Lucrezia Borgia by G. Donizetti :
- Come è bello
- Soli noi Siamo
- Il segreto per essere felici
From Un ballo in maschera by G. Verdi
- Ecco l'orrido Campo
- Teco io sto
Libiamo ne' lieti calici from La Traviata by G. Verdi
Ninna Nanna by Francesco Paolo Tosti
Menu:

Welcome Drink: Prosecco Superiore
Squashed Gaeta olives, anchovies from Civitavecchia, fresh buffalo ricotta cheese with dried tomatoes and orange slices
Puree of smashed chickpeas and chestnuts
Timballino (cacio e pepe pasta timbale)
Pork with apple sauce and cinamon
Spinach salad with pink vinegar
Dessert: Panna cotta with khaki, figs and bergamot sauce

*The musical programme and the menu are subject to change