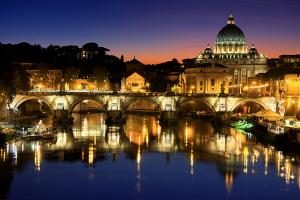 The event Soirée Baroque offers a fantastic combination of culinary and musical delights. A special Mediterranean menu at the Cotto Restaurant will start you off the right way. Then a short walk will take you to St Paul's Within the Walls Church where a talented soprano and an ensemble of strings, trumpet and harpsichord will regale you with their renditions of signature works by Antonio Vivaldi and Johann Sebastian Bach. The two big names of the Baroque period were strong influences for each other. Their works, performed back to back in this special evening, seem to elevate each other in this intriguing concert.
Your evening begins at 6:30 pm when you take your seat at the authentic Cotto Restaurant. A delicious four course menu includes traditional Italian starters, pasta, a choice of fish, meat, or vegetarian main course, and delectable dessert. Water is also included, and any other drinks can be ordered additionally. After you have tickled your palate with some Italian classics, take the short walk to St Paul's Within the Walls Church and prepare to be amazed by the selection of Vivaldi and Bach classics performed by the Opera in Roma Baroque Orchestra.
No such concert would be complete without Vivaldi's The Four Seasons, the violin concerto suite that has become synonymous both with the composer's name and with Italian Baroque as a whole. The masterpiece's musical onomatopoeias and unmatched creativity ring even smarter and truer in the special venue. From Bach's extensive catalogue, the programme includes the cantata Jauchzet Gott in allen Landen. The solo soprano part is widely regarded as one of the best vocal melodies from the period. The instrumental score for strings, trumpet and harpsichord is just as impressive and memorable.
Soirée Baroque is an evening that celebrates history and creative influence. The great Italian culinary tradition culminates in a delicious four-course menu. The creativity and connection Vivali and Bach share unites two of Baroque's greatest composers, each of them a musical universe in his own right.