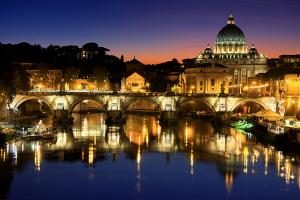 An architectural masterpiece of Italian Baroque, Palazzo Pamphilj opens its doors for an event that is one of a kind in its summation of the Italian joy of life. The Opera Dinner has everything you would expect of a great night in Rome: delicious food, great drinks and music full of love and passion, all in the unique atmosphere of the exclusive Innocenzo X Hall of the Roman palace. If there is a way to pack more Italian hedonism into a single evening, we definitely do not know it!
You will find the majestic Palazzo Pamphilj, built around the mid-17th century, on the side of the famous Piazza Navona in Rome. The Opera Dinner begins at 8 pm with a welcome aperitif of sparkling wine. Then the first half of the musical programme takes you on a journey through the most famous Italian operas. Arias and duets from masterpieces like La Traviata and Rigoletto by Giuseppe Verdi, La Bohème, Gianni Schicchi and Tosca by Giacomo Puccini, or Pagliacci by Ruggero Leoncavallo come alive thanks to the talented soprano, tenor and their accompanist at the piano.
During the break in the musical performance, the dinner commences with a choice of meat or fish dishes that reflect Italy's rich and delectable culinary heritage. Each menu option is accompanied by carefully curated wine pairings for ultimate taste. After you immerse yourself in the unique Italian flavours, the concert picks up again between the dinner courses and makes the evening a joy for all the senses at once. The programme ends on a high note with the Verdi classic 'Libiamo nei lieti calici' from La Traviata, a fitting finale grande to a truly special event. Italian opera and food in the unique atmosphere of the opulent Palazzo Pamphilj in the heart of Rome – the Opera Dinner truly has it all.