Opera, Aperitif and Dinner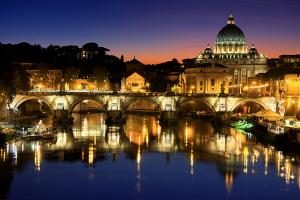 In the event Opera, Aperitif and Dinner in Rome, wonderful music and delicious cuisine, courtesy of the Zagara Restaurant, combine into an inimitable evening of pure joy. Take this chance to immerse yourself in a carefully curated musical and culinary programme right in the heart of the Eternal City and draw inspiration from generations of creative Italians who dedicated their lives and talents to contribute to the country's unique cultural heritage. Having a true taste of Italy has seldom been so good!
The musical part of the evening, Opera Greatest Hits, takes place at the Methodist Church on Piazza di Ponte Sant'Angelo. In this atmospheric location, a talented soprano and tenor backed by a pianist present some of the greatest arias and duets in the operatic catalogue, including celebrated works by Giuseppe Verdi, Giacomo Puccini or Wolfgang Amadeus Mozart, as well as several exquisite works for solo piano. To that you can add a collection of beloved Neapolitan songs that underscore the breadth and depth of the Italian musical heritage. In about 75 minutes, the gifted musicians take you on a journey through musical highlights that span centuries – an amazing feat that is sure to impress you.
After the musical performance, you can stick around in the performance hall a little longer and take an aperitivo in the company of the performers. Three-quarters of an hour later, the special dinner at the Zagara Restaurant, a mere 50 metres away, beckons you. Did you know that many Maestros of Italian opera were also accomplished chefs, like Rossini, or grew up as farmers and wine-makers, like Verdi? The chefs at Zagara take such fun facts and produce unique dishes especially for this exclusive event. You can pick one of several starters, main dishes, and desserts each, such as pasta 'Norma', bocconcini 'Verdi', or sole 'Rossini' while you are sipping your welcome cocktail 'Bellini'. Does an evening get more enjoyable and more Roman than that? Hardly!