Music in Bernini's Rome with dinner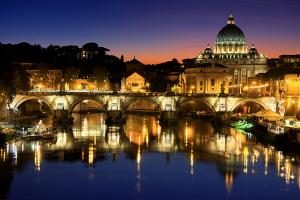 Music in Bernini's Rome with a Traditional Roman Dinner
Treat yourself to a soiree in the centre of Baroque Rome and indulge all of your senses. This fabulous experience begins with the event "Music in Bernini's Rome" at the magnificent church of Sant'Agnese in Agone (St Agnes in Agony), situated in the Piazza Navona. Here, you are sure to feel the wonder and emotion transmitted by the interplay of architecture, water, marble, colour and sound.

The musical programme includes works from the 17th century and it alternates with guided walks around the church, beginning in the Borromini Sacristy and finishing in the main building of Sant'Agnese – an architectural jewel which is a feast of marble, sculptures, frescos and other delights.

After experiencing this wide range of artistic marvels, it is time to discover yet more flavours of Rome. The cosy restaurant Terrazza Borromini, considered to be a "gastronomic gem" and located at Palazzo Doria Pamphilj very close to the church, is a hit for all with its delicious dishes of typical Italian cuisine and with the excellent wines on offer.
Savour this complete sensory experience and add an unforgettable evening to your stay in Rome.
Menu
Starter:
First course:
Main course:
Stuffed beef rolls with sauce and roasted potatoes
Dessert:
Beverages not included.
Gluten free on request.