Roberto Bolle and Friends, Terme di Caracalla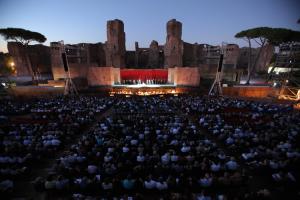 No one has earned the right to be called "étoile" more than Roberto Bolle. Born in 1975 in Casale Monferrato, Italy, Bolle enrolled in the ballet school of La Scala in Milan when he was just twelve years old. Three years later, the legendary Rudolf Nureyev gave Bolle the part of Tadzio in Death in Venice. The rest, as they say, is history.
Bolle has gone on to grace the stages of all the great theatres, including the Mariinsky, the Royal Opera House and the Met. He has performed many of ballet's most famous roles, including Romeo, The Nutcracker Prince and Siegfried. What's more, his achievements have transcended the milieu of dance: in 1999 he was made a Unicef Goodwill Ambassador and then, thirteen years later, appointed Cavaliere dell'Ordine al Merito della Repubblica Italiana for his contribution to the cultural life of his country.
Roberto Bolle and Friends is a gala performance of the very best in classical and contemporary dance. The show has been touring the globe since the year 2000 and features not just Bolle but a host of international stars drawn from the world of ballet. In addition to appearing himself, it is Bolle who selects the other dancers. He also chooses the locations that make the production such an unforgettable experience. It is this aspect of Roberto Bolle and Friends that sets it apart from other dance extravaganzas: bringing ballet to places one would never have imagined could be used successfully for dance. In Italy alone, the Colosseum, the Duomo Square in Milan, the Piazza San Marco in Venice, the Verona Arena and, as from 2011, the Baths of Caracalla, have all provided the backdrop for Bolle's astonishing spectacle.
In 2015, Bolle published a stunning book of photographs titled Viaggio nella bellezza (Voyage into Beauty). In this beautiful collection of images, Bolle's body almost seems to become part of Italy's most iconic monuments. Likewise, in his concept for Roberto Bolle and Friends, this great primo ballerino demonstrates how dance, though fleeting and ephemeral, is as much a part of the fabric of our lives as the spaces it is performed in.