Sacred Music in the heart of Rome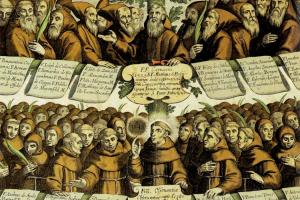 Art, music and spirituality

The notion of the soul's supremacy over the body is the central musical and artistic theme of this event, which takes place in one of the most curious venues in Rome, the Museum and Crypt of the Capuchin Friars, which is located on the site of the church of Our Lady of the Conception of the Capuchins (Chiesa di Santa Maria della Concezione dei Cappuccini o Chiesa di Santa Maria Immacolata a Via Veneto).
This unusual event consists of two parts: a guided tour (in English) of the multimedia Museum of the Capuchin Friars, and a concert of Gregorian, Renaissance and Baroque music in the famous Capuchin Crypt.
The church, which houses the Museum, was designed by the papal architect Michele da Bergamo in 1626, on the orders of Pope Urban VIII. The Pope wanted it built near to his Barberini Palace in honour of his brother Antonio Barberini, who belonged to the Capuchin Order and whose tomb can be found facing the church's main alter. The Crypt is located next to the church and is decorated with the bones of approximately 4000 Capuchin monks who died in Rome from the 16th to the 19th century, and it also contains some mummified bodies of Capuchin monks. While this might sound terrifying, the place actually transmits a sense of hope and peace.
The exquisite musical programme, performed a capella by the internationally acclaimed Schola Romana Ensemble, consists of works from the repertoire of the Sistine Chapel, the most important compilation of Catholic sacred music. Gregorian chant and Roman polyphony alternate during an exciting musical and spiritual journey in which the Ensemble (soprano, contralto, tenor and bass) perform Gregorian works as well as those by composers of the Renaissance and Baroque periods, such as Giovanni Pierluigi da Palestrina, Jacques Arcadelt, Cristóbal de Morales, Tomás Luis de Victoria, Agostino Agazzari and Giuseppe Ottavio Pitoni.
A unique experience awaits you in the centre of Rome.
Programme:
Gregoriano
Giovanni Pierluigi da Palestrina
Jacques Arcadelt
Cristóbal de Morales
Giovanni Pierluigi da Palestrina
Tomás Luis de Victoria
Agostino Agazzari
Giuseppe Ottavio Pitoni