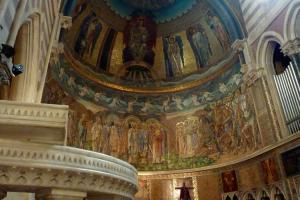 Celebrate the golden age of Italian Grand Opera with a tasteful programme sure to delight every connoisseur of this sublime genre. The concert will be staged in the exquisite setting of the church of St. Paul's Within the Walls, a venue with a fine acoustic and exquisite decoration which will truly enhance the audience's enjoyment of the great masterpieces of the Italian operatic tradition. A selection of famous arias and other works will be offered by soprano, tenor and baritone soloists accompanied by a chamber ensemble.
The evening's 'hommage' to Italy's Grand Opera composers of the 19th century will include extracts from Rossini's 'Barber of Seville', Bellini's heroic tragedy 'Norma', and Donizetti's touching 'L'elisir d'amore'. Italy's 'second wave' of Grand Opera maestros is represented by pieces from Puccini's finest operas, including 'Tosca' and 'La Boheme', and no grand-opera programme would ever be complete without celebrating the accomplishments of Guiseppe Verdi, represented here by selections from 'La Traviata', 'Rigoletto', and of course, the 'Va Pensiero' Hebrew Chorus from 'Nabucco'.

To introduce further variety, but more importantly to establish an authentic grand opera context, each half of the concert will be preceded by an instrumental interlude played by the Opera e Lirica Ensemble. The first section begins with one of the most loved items in the repertoire – Rossini's stunning 'Barber of Seville' ouverture – whilst the second features Mascagni's symphonic intermezzo from 'Cavalleria Rusticana'.
As well as providing a wonderful backdrop for great music, the splendour of Rome's 'S. Paolo Entro le Mura' offers its own visual charms – magnificent stained glass, and beautiful mosaics by Breck and Burne-Jones which will ensure the evening delights the eye as much as it will enchant and captivate the ear.
Programme:
Gioachino Rossini, from the opera The Barber of Seville:

Overture – Instrumental
Largo al factotum della città - Baritone aria
Ecco ridente in cielo - Tenor aria
Ah qual colpo inaspettato – Soprano, Tenor and Baritone trio

Giuseppe Verdi, from the opera La Traviata:

Prelude to Act I - Instrumental
Sempre libera degg'io - Soprano aria
Lunge da lei - De' miei bollenti spiriti - Tenor aria
Di Provenza - Baritone aria
Libiam nei lieti calici - Soprano, Tenor and Baritone Brindisi

Pietro Mascagni, from the opera Cavalleria Rusticana:

Intermezzo – Instrumental

Gaetano Donizetti, from the opera The Elixir of Love:

Una furtiva lagrima - Tenor aria

Giacomo Puccini, from the opera Madama Butterfly:

Un bel dì vedremo - Soprano aria

Giuseppe Verdi, from the opera Rigoletto:

Cortigiani, vil razza dannata - Baritone aria

Giacomo Puccini, from the opera La Bohème:

Valzer di Musetta, Quando m'en vo' - Soprano aria

Giacomo Puccini, from the opera Tosca:

Recondita armonia - Tenor aria

Giacomo Puccini, from the opera Gianni Schicchi:

O mio babbino caro - Soprano aria
Era uguale la voce? - Baritone aria

Giuseppe Verdi, from the opera Rigoletto:

La donna è mobile – Tenor aria

Vincenzo Bellini, from the opera Norma:

Casta Diva - Soprano aria

Giuseppe Verdi, from the opera Nabucco:

Va Pensiero - Soprano, Tenor and Baritone